Audio tapes released by Afghan presidential candidate Abdullah Abdullah's team appear to reveal a conversation in which top Afghan election official Zia ul-Haq Amarkhail ordered ballot boxes stuffed in favor of Abdullah's rival Ashraf Ghani.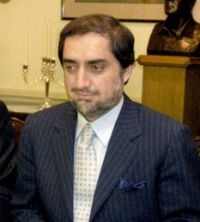 Though the tapes have yet to be independently authenticated, they detail Amarkhail ordering ballot stuffing and advising regional election officials to replace workers seen as pro-Abdullah with members of ethnicities that leaned toward Ghani.
Abdullah has been complaining to the Independent Election Commission (IEC) about the allegations for a week now, urging them to halt vote counts until the allegations of ballot stuffing are first probed.
Abdullah won handily in the first round of voting, just shy of the absolute majority needed to avoid a run-off. That, along with endorsements from two major opposition candidates now out of the race had many assuming he was virtually president-elect at this point, though Ghani's close ties to outgoing President Karzai and the reluctance of Pashtun voters to vote for Abdullah, who is only half-Pashtun, appear to be making that majority tricky indeed to come up with.