A city of about 1 million people that has found itself smack in the middle of a growing Ukrainian civil war, reporters in Donetsk are finding a situation of contrasts, with rebel officials struggling to maintain control in the city's big business districts, but life going on more or less as normal elsewhere.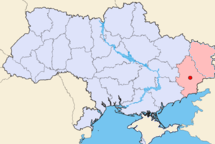 There are reports of tension in the city's residential neighborhoods, but nothing extreme for a city that just saw its own military attack its airport days prior, killing 100 people. People are keeping a closer eye on their children, fearing the situation may rapidly worsen, but are largely going on about their lives.
The business districts are a wreck, by contrast. Many stores are boarded up, and the ones that remain open report looting, often by people claiming to be with the rebels.
Clearly many of the looters are just claiming to be with the rebellion to coerce the shopkeepers, but the rebel leadership in Donetsk conceded they found stolen merchandise in some offices and had arrested some officials for extorting the stores.
The airport remains inaccessible, naturally, and many of the Ukrainian banks have closed up shop, saying it is too dangerous to operate in the east.
Last 5 posts by Jason Ditz