Major fighting was reported today in the eastern Ukrainian city of Donetsk, with a key battle fought throughout the day at Sergey Prokofiev International Airport in the city's northwest.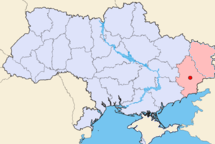 Troops backed by military aircraft attacked the airport, aiming to retake it from a pro-protester faction. Both sides claimed victory by the end of the day, with the military reporting ousting them, and the protesters reporting they had retaken the airport after that. Airstrikes were fired during the battle, which is still ongoing to some extent, and one missile hit a nearby factory, injuring a civilian.
While the airport was the main target, protesters also seized the Donetsk railway station, and came under attack by the military there as well. Casualties among combatants weren't reported by either side, but one civilian was killed by a stray bullet.
President-elect Petro Poroshenko claimed the situation was in hand and that fighting in Donetsk would be over in a matter of hours. The militias loyal to the Donetsk People's Republic leadership similarly say they will expel the military in short order. Civilians are being urged to stay indoors, and the fighting seems likely to go well beyond the expectations of either side.