16 Ukrainian soldiers were killed and 32 others wounded today in an attack on a military checkpoint near Volnovakha, in the eastern Donetsk Oblast. The checkpoint was destroyed by the attackers.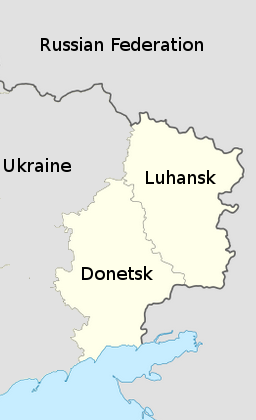 But who were they? That's the big question tonight. Ukraine's government blamed eastern protesters, but military personnel disputed that, with one major dubbing the attackers "mercenaries," and locals from a nearby village told a similar story.
According to the villagers, the troops at the checkpoint had refused orders to attack them, and several vans full of armed men linked to the far-right, and backed by helicopters attacked the checkpoint today to punish them for refusing to "crush the resistance."
By contrast, a smaller militant faction in the east claimed they were the ones who attacked the checkpoint, and it remains unclear which side was really to blame. The interim government said they intended to present secret evidence of Russia's involvement in the attack to the UN Security Council, but has declined to offer it publicly.
In addition to the checkpoint fight, several smaller gunfights were reported across Luhansk and Donetsk. The protest leaders in Luhansk put the number of Ukrainian troops in their territory at "around 6,000," though many are not really fighting, but rather just setting up checkpoints.