The Ukrainian military's ongoing offensive against the eastern portion of their country transitioned today from attempts to retake those cities to an effort to forcibly disrupt a region-wide referendum on seeking increased autonomy.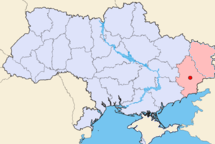 Troops attacked the city of Krasoarmiysk, opening fire on civilians, killing at least one, and capturing four public schools that were being used as the polling places for the city of some 70,000 people.
A military checkpoint outside the southern port city of Mariupol also reported the capture of some 10,000 ballots cast in the vote. A significant turnout was reported in the voting.
The referendum seeks approval for the Donetsk People's Republic, an autonomous government established for the Donetsk and Luhansk Oblasts. The language is vague on whether this means secession from Ukraine, or simply regional autonomy, and the protesters are split on this matter as well. Ukraine's interim government has insisted the referendum, as well as the protests, are illegal acts of terror, and has vowed to "liquidate" the protesters militarily.