While most of Ukraine's military's major operations against the east have come in the northern part of Donetsk Oblast, today's attacks focused on the south, and the key port city of Mariupol, where at least 20 people have been reported killed, and massive numbers wounded.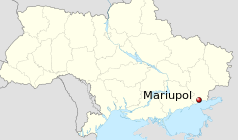 Interior Ministry troops, backed by tanks and APCs, are trying to retake the protester-held Interior Ministry building in town, while arresting local police who refused to side with them against the population.
Retaking the ministry building seems to be job one, but instead of worrying about that with a protester-held police station, the troops simply blew it up with rocket-propelled grenades, leveling the building, killing seven within, and wounding dozens.
Though the government dubbed all those killed "terrorists," many of the people shot in the streets seem to have been unarmed civilian protesters. RT's cameraman for the city, taking pictures of the chaos, was also shot in the chest, and despite wearing a bulletproof vest was badly wounded.
Interior Minister Arsen Avakov demanded the civilian population immediately endorse the invasion,. saying the situation was "black and white" and that foes could expect "only one answer from the Ukrainian state – annihilation."