Adding to speculation about US involvement in calling the shots in post-regime change Ukraine, Germany's Bild newspaper is reporting dozens of FBI and CIA agents on the ground in the capital of Kiev "advising" the government.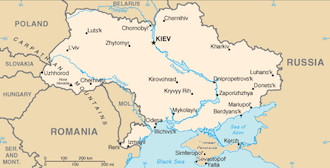 The move was initially presented as focusing on organized crime, with the FBI team sent specifically to track down ousted President Viktor Yanukovych's hidden accounts. Now, however, they are said to also be advising them on the ongoing offensive against eastern protesters.
That would explain why the Obama Administration has been so unabashedly supportive of the eastern offensive as a "law and order" measure, though the reports are quick to insist that the agents are not "directly involved" in the fighting.
These are not the first reports of US involvement in the Ukraine interim government, and rumors began circulating almost immediately after the takeover of Blackwater troops on the ground in Ukraine, while CIA head John Brennan's high profile visit only added to the speculation.