Egypt's military junta continues to move forward with mass trials of those involved in public protests against last summer's coup, and today sentenced another 683 protesters to death for "inciting violence." Among those sentenced was the leader of the Muslim Brotherhood, Mohammed Badie, whose political wing was the elected government of Egypt until being ousted last year by the military.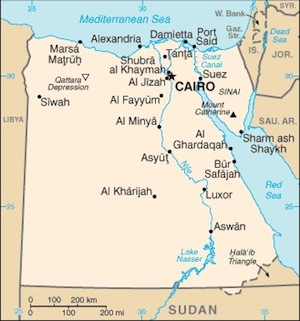 The exact same judge was in charge of the first of the mass trials last month, which quickly concluded with a sentence of death for all 529 detainees. The judge was handed the case of the 683 protesters sentenced today just a day after the first verdict.
715 more "suspected Islamists" are being held in a third mass trial related to the protests, and 204 more are facing the same "inciting violence" charge in a fourth mass trial.
Though the United States has been somewhat critical of the mass execution orders, but has followed on to that criticism by freeing up massive amounts of military aid for the junta, suggesting that whatever theoretical problems they have with executing protesters by the thousands, they don't amount to much on a policy front.