The count in the Afghanistan presidential election from earlier this month is continuing, but at 82.5% of the votes counted, the Independent Election Commission (IEC) has confirmed no candidate is going to secure 50 percent, and a run-off must be held.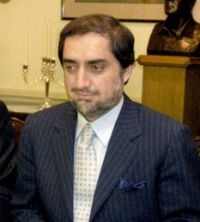 The current front-runner is Abdullah Abdullah, with Ashraf Ghani having sewn up second place. Zalmay Rassoul, polling at a distant third, will not be able to catch up and get into the two man run-off.
Not that Rassoul is out of the picture, and both candidates in the run-off will clearly court his endorsement, in the hope sthat he can bring some of that 11% of the vote with him into the next round.
It will be the first proper run-off vote in Afghan history. In the first election, President Karzai netted a majority in the first round, winning outright, and in the 2009 election a run-off between Abdullah and Karzai became a moot point when Abdullah withdrew, protesting Karzai's refusal to implement reforms.