The recent sacking of Saudi spy chief Prince Bandar bin Sultan came at the behest of the Obama Administration, according to reports from experts familiar with the situation. The official Saudi statement claimed he had "asked to step down."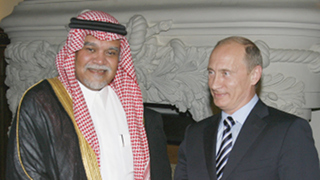 Prince Bandar's term in the post centered primarily around dramatic escalations of the Syrian Civil War, throwing ever more advanced weapons at every more extreme rebel factions, sometimes over explicit US objections.
Bandar, who was close with former President Bush during his time as Saudi Ambassador to the US, was loudly critical of the Obama Administration for not following up on threats to invade Syria, in unusually public comments that many saw as politically driven.
The main member of Bandar's term as spy chief will no doubt be last August's trip to Moscow, during which he offered Russia billions of dollars to abandon their alliance with Syria, and openly threatened terrorist attacks by Chechen militants, which he claimed the Saudi government controlled, against the Winter Olympics in Sochi unless Putin agreed.