The first official election results from Afghanistan were released today, and their slow-motion count shows that with about 10% counted, Abdullah Abdullah is leading the presidential election with 41.9%, followed by Ashraf Ghani at 37.6%.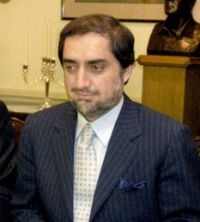 It is still early going, and few expect final results to come before next month. Still, neither Abdullah nor Ghani is expected to pass the 50% threshold needed for outright victory, and a run-off is almost certain.
The count is going on amid ever-growing complaints of serious fraud, with the Electoral Complaints Commission reporting even more incidents than in the 2009 election, when over one million votes were thrown out.
In 2009, President Hamid Karzai and Abdullah finished in the top two places, though Abdullah withdrew before the run-off could take place, citing Karzai's refusal to agree to reforms to prevent fraud.