Protesters in the eastern Ukrainian city of Donetsk continue to shore up their defenses today, as the 48 hour ultimatum to surrender to the central government nears, and a planned military offensive seems more and more likely.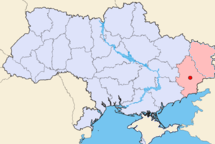 The protesters have taken several government buildings around the inner city, and warn the "siege" area is such that if the offensive happens "they will end up killing a lot of civilians" along with the secessionists.
Locals also confronted Ukrainian troops and artillery along the road near the city, sparking arguments with the military. The troops insisted they were there to counter Russia's military, but the locals believe they are part of the offensive.
The Interior Ministry has demanding the unconditional surrender of all secessionists, saying they won't be charged with seeking secession if they submit, though the protesters say they have no intention of giving up, demanding a referendum of federalisation and autonomy for their region.