Secretary of State John Kerry's latest "emergency" visit to Israel to try to salvage peace talks has been cancelled outright tonight, with signs that Israel isn't going to accept a settlement freeze and Palestinian officials aren't going to wait forever on prisoner releases.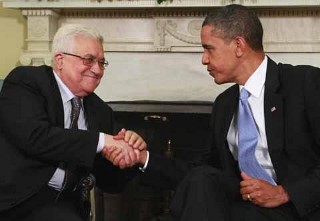 Palestinian President Mahmoud Abbas is moving closer to seeking UN recognition of Palestinian independence as well, with officials saying he has signed 15 conventions, including the Geneva Convention and several UN agency agreements.
Kerry claims Abbas has "given his word" to remain open to negotiations through the end of the month, when the current round of peace talks is scheduled to expire at any rate.
New talks are unlikely, however, after Israel reneged on a prisoner release this past weekend, and Israel is unlikely to back-track without receiving a princely sum from the US, meaning that the next few weeks are more a question of if Kerry can broker a grand bargain for a few more months of talks than whether the current talks will accomplish anything.