After a year, the US-brokered peace talks in Israel and Palestine have gone nowhere. With the deadline set for April, just how much is it worth to the Obama Administration to extend the talks through December?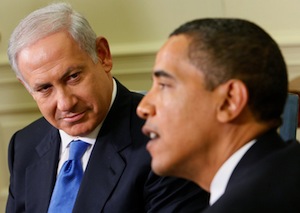 Enough to release jailed US spy Jonathan Pollard, according to numerous reports, as they are said to be offering Pollard to Israel in return for Israel making some concessions, including a partial settlement freeze and releasing a number of Palestinian detainees. This, in turn, would be enough for PA President Mahmoud Abbas to endorse the December deadline.
The Palestinians had been reluctant to agree to an extension, and even getting through the April deadline seems speculative after the Israeli government reneged on last weekend's scheduled detainee releases. Pollard, who was given Israeli citizenship after being jailed by the US for spying, is a high-profile enough get for the far-right government it would likely give them cover to sell a partial settlement freeze, if only for a few months.
Israeli media hypes the chances of getting Pollard out of the Obama Administration fairly regularly, but noteworthy this time is that the White House, instead of offering their usual denial, are now denying any comment on the reports.