NATO's Supreme Allied Commander Gen. Philip Breedlove, following the lead of NATO's political brass in hyping the Russian "threat" to Europe, has warned Russia's deployment along its border with Ukraine could mean a plan to attack Moldova.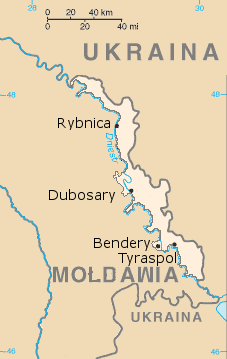 That's his theory, though over 500 miles of Ukrainian territory lies between the Russian border and Moldova's breakaway region of Transnistria, so the deployments aren't exactly within striking distance.
Breedlove urged a major military redeployment with an eye on defending Eastern Europe, and Moldova in particular, from a full scale Russian invasion, noting "you cannot defend against that if you are not there to defend against it."
Transnistria is a narrow strip that hugs the Dniester River, and seceded from Moldova in 1992, though its secession is not generally recognized by NATO member nations. The region's population is split roughly in thirds by ethnic Moldovans, Ukrainians, and Russians.
The Russian military retains a 1,200-man military presence in Transnistria, which Moldova claims is an "illegal occupation," since they don't recognize Transnistria's independence and seek to re-annex them.
NATO officials are trying to draw a parallel between Transnistria and Crimea, though as a region with little strategic value which Russia is protecting from re-annexation, it seems to have more in common with South Ossetia, which Georgia continues to claim as its own territory.