As peace talks with Israel struggle toward what seems to be their inevitable collapse, Palestinian President Mahmoud Abbas is finding his internal position increasingly tenuous.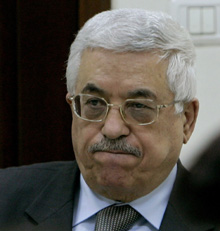 The leader of the Fatah movement since the death of Yassir Arafat, Abbas is seeing a growing faction within Fatah fed up with him, particularly after his recent public condemnations of a key internal rival, Muhammad Dahlan.
Dahlan, once the presumptive heir to Abbas, has been expelled from the party, and Abbas has recently accused him of plotting to undermine his rule, as well as possibly assassinating Arafat, though he offered no evidence to that effect.
Abbas continues to try to defend his position on the peace talks, but they are taking a back seat to the sudden internal unrest, and many see Abbas' lashing out as particularly unseemly and poorly timed, with so much attention on the imminent end of the peace process.