Update: some outlets are denying reports that the U-130 Hetman Sahaldachny, the Ukrainian flagship, actually defected, as was reported earlier this month. It is unclear what the status of the ship currently is, though some reports have it at Odessa, under Ukrainian control.
—
Ukraine's tiny Navy continues to shrink in size today, as 3 of its anti-submarine corvettes, the U-205 Lutsk, the U-209 Ternopil, and the U-208 Khmeinystskyl were all captured by "pro-Russian" militias along the Crimean coast.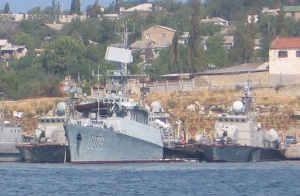 At the start of the Crimean crisis, the active Ukrainian Navy amounted to a single frigate, 5 corvettes, and an aging submarine, along with various transport and support ships. In addition to losing 3 corvettes today, the frigate, the U-130 Hetman Sahaldachny, defected weeks ago during NATO operations.
No casualties were reported in any of today's incidents, though there were claims of gunfire during the capture of the Khmelnystskyl. Ukraine ordered the last of its troops to withdraw from Crimea yesterday, and is working on plans to evacuate the region.
Assuming the lost corvettes are not recovered, the U-206 Vinnytsia and the U-155 Prydniprovya, two Soviet era frigates, are basically the entire active Ukrainian battle fleet. The nation also has the U-01 Zeporizhzhia, a 45-year-old they've spent the entire post-Soviet era trying to repair back into working condition. It remains a reserve unit.