With Crimea's vote on secession and seeking to join the Russian Federation set for a week from Sunday, the Russian parliament's top leaders have thrown their support behind the measure, saying they will respect whatever choice the Crimean voters make.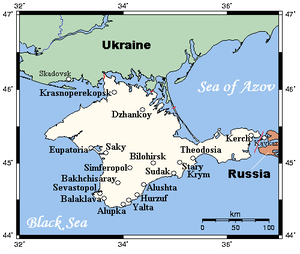 Earlier this week, in his first public comments on the matter, Russian President Vladimir Putin said he had no intention of annexing Crimea back into the Russian Federation, but there seems to be a strong majority in both houses of parliament for it.
Valentina Matviyenko, the leader of Russia's Federation Council, the upper house of parliament, likened the Crimean vote to another scheduled referendum on secession, in Scotland. Western officials have insisted that the two are "different" because Britain grudgingly agreed to the Scottish referendum while Ukraine's new interim government has tried to arrest the organizers of the Crimean one.
Crimea may be the least of that government's problems, however, as Russian gas giant OAO Gazprom has warned it may soon shut off natural gas exports to the country because Ukraine has a $1.89 billion bill that they seem unwilling to pay. Gazprom CEO Alexei Miller insisted they "cannot deliver gas for free."