In his first public comments addressing the Crimea crisis, Russian President Vladimir Putin laid out his position on the situation, downplaying military involvement in the Crimea, and saying that any use of force would be a "last resort."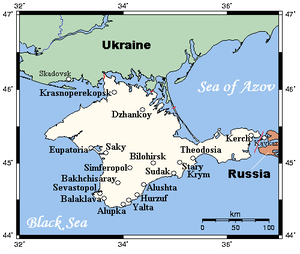 Perhaps the most interesting comment was with respect to the Crimea, which Putin said Russia has "no intention of annexing." Crimea is moving toward a referendum on secession, and was presumed to be planning to rejoin the Russian Federation.
The position is a surprise, because late last week the Russian Duma was looking at a bill enabling Russian annexation of neighboring territories in the event of a referendum, clearly aimed at Crimea. It seems they may not be on the same page as Putin.
The 1994 Budapest declaration set up Russia, the US and Britain as guarantors of Ukraine's "territorial integrity," and annexing the Crimea might be seen as a violation of the deal, even if secession was authorized by the Crimeans themselves. The position might change in the future, particularly if Crimean secession becomes a fait accompli and the autonomous region continues to court reaccession into the Russian Federation.