The Crimean Peninsula took another step toward secession today, as newly appointed Prime Minister Sergey Aksyonov, the head of the Russian Unity Party, claimed full control of army and police forces in the region, and asked Russia for addition military aid.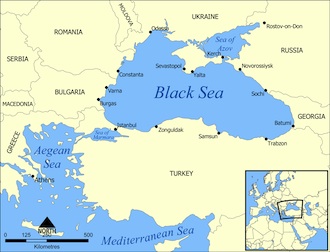 That may be coming sooner, not later, as Russia's parliament has already passed a bill authorizing the use of the Russian military in the Ukraine, with a particular eye toward protecting Russian citizens inside the country amid growing unrest.
Aksyonov is already reporting that the Crimean autonomous government has got Russian forces from the navy base protecting key government installations, and there are unconfirmed reports of a deployment of 6,000 Russian troops into the Crimea.
Ukraine's own interim government, installed itself at the end of a protest last week, insisted they don't recognize Aksyonov as the Crimean PM because his election this week came amid protests in the Crimean capital of Simferapol.
The Crimea is overwhelmingly ethnic Russian, and there appears to be massive support for secession from the Ukraine. The Crimean parliament has already authorized a referendum on the matter offering several options, including seeking a return to Russia, and Russia's parliament is debating the possibility of reannexing the Crimea if the referendum shows support for it. The Crimean referendum was initially set for May 25, but Aksyonov pushed it up to March 30.
The pro-Russian backlash at regime change in Ukraine even seems to be expanding outside of the Crimea, with protests in Donetsk, Kharkiv, and Mariupol with demonstrators carrying Russian flags. The protests led to clashes with the pro-Western demonstrators who took over the country last week.