Kurdish fighters loyal to the People's Protection Units (YPG) have taken over the northwest Syrian town of Tell Brak this weekend, seizing it from al-Qaeda in Iraq (AQI) after a major battle.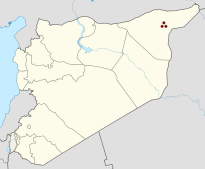 Reports from the town are still scant, but at least 28 people were killed, including three YPG fighters and a number of what the YPG referred to as "armed mercenaries." It isn't clear how many, if any, AQI fighters died.
The YPG reported full control over the town, as well as villages in the surrounding area. They also say they have taken 42 prisoners, though they didn't identify who those prisoners were.
Though a relatively small town itself, Tell Brak lies along a strategically important highway, near the Iraqi border. Kurdish factions have been keen to secure the northeast of the country as an independent enclave.