Key opposition figure Imran Khan says that he "appreciates" the offer by the Pakistani Taliban to represent them as a negotiator at the upcoming peace talks with the government, but that he can't accept the role.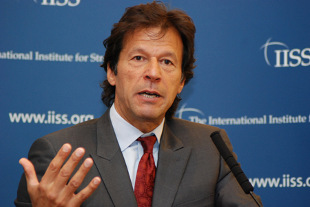 Khan, whose Pakistani Tehreek-e Insaf (PTI) party strongly favors the talks, says another top PTI member, Rustam Shah Mohmand, is already a negotiator on the government's side, and it would be difficult for the PTI to be represented on both sides of the table.
The Pakistani Taliban is said to have expressed "good intentions" about the talks, and has set no preconditions on them, the first time the group seems generally open to the idea since their former leader Hakimullah Mehsud was assassinated by a US drone less than 24-hours before he was to attend the opening of similar talks.
Since then, the talks have been on hold, with the Taliban threatening revenge and the PTI blockading NATO supplies into Afghanistan to protest the US sabotage of the process.