A US drone strike targeted a convoy of vehicles outside of the Somali port city of Barawe today, destroying multiple vehicles and killing at least five people, including an al-Shabaab commander named Ahmed Sahal Amey.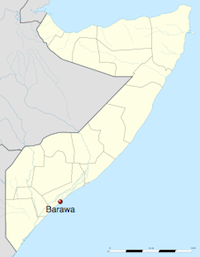 Amey was heading to Barawe, according to al-Shabaab reports, to take part in a meeting of the organization's leadership. The identities of the other four slain are unknown at this time.
Also unclear is if Amey was even the intended target, as separate reports quoting US officials suggested they were aiming to kill Mohamed Abdikadar, and they are unsure if he was killed or wounded in the attack. The Shabaab reports make it unclear if he was even present at the time.
This is the first US drone strike against Somalia since October, when an attack in Juba killed two people, both declared "senior leaders" in Shabaab, but neither was ever named.