Russia has announcement the expansion of their Olympic security zone with the Winter games in Sochi scheduled to begin in a matter of weeks, and the zone spans not only the Russian Caucasus area, but part of the neighboring Republic of Abkhazia.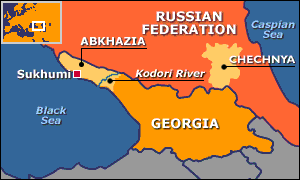 In practical terms this means the establishment on a "stationary checkpoint" in the Abkhaz village of Bagripshi, which will be manned by Abkhazian security forces. There is no indication Abkhazia, a close ally of Russia, has any objections to the decision.
That's less true of the Republic of Georgia, which considers Russia an enemy and doesn't recognize Abkhazia as an independent nation, insisting the whole coastal nation is theirs.
Georgia dubbed the Russian move an "illegal" expansion, and an infringement on their territory. Abkhazia has enjoyed de facto independence in 1993, and received formal recognition from some nations, including Russia, after the brief 2008 Russo-Georgian War.