A group of 12 nuns kidnapped from the Christian town of Maaloula are alive and well, and appear in a new video delivered to al-Jazeera. The nuns confirmed they were taken by rebel fighters and said they are being held in a "safe place," but where remains a mystery.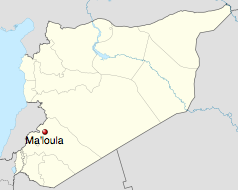 The details of the abduction are still unclear, but the 12 nuns and three other women were taken at gunpoint from a Maaloula convent by rebel fighters, apparently from al-Qaeda's Jabhat al-Nusra.
They were taken over the weekend, when Maaloula was briefly captured by al-Nusra and fell back to the government forces in three days of fighting. The rebels said the nuns were taken "for their own safety."
The kidnappings have fueled significant concern among Syria's Christian minority, which has been increasingly targeted by Islamist rebels that perceive them as unduly supportive of the Assad government. With many of their towns on the frontier between Assad and rebel territory, they are finding their homes turning into the frontline of the war.