Four former Blackwater fighters are facing new manslaughter charges today related to the September 2007 massacre of 17 Iraqis, civilians and police, in Nisoor Square.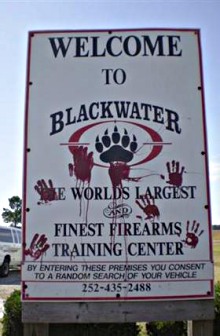 The incident centered around claims that a woman driving a Kia sedan refused to clear a path for the Blackwater convoy, and after assuming this meant a terrorist attack was in progress the Blackwater fighters killed everyone in or near the vehicle, including an Iraqi police officer. This sparked a gunbattle with the police and at least one of the fighters continued firing on random civilians throughout the exchange.
The post-massacre narrative by Blackwater continued to be based on the assumption that they were attacked by "terrorists" dressed as civilians and police, even though it was well established by that time that the police were actual, real police and there was no suggestion any of the civilians fired a shot.
The lawsuits are filed under the Military Extraterritorial Jurisdiction Act, which allows the government to prosecute military contractors for crimes committed abroad. The defense has argued that the act doesn't apply to the fighters, who were working for the State Department, and not the military.
The same four, all former US soldiers, were charged in 2008 but that case was eventually dismissed by a federal judge on grounds that the Justice Department had improperly built its case and withheld key evidence from the jury. An appeals court overturned the dismissal, and the judge asked the Justice Department if it wanted to retry the case, leading to the new round of charges.
The 2007 massacre was a high-profile turning point in the Iraq War, sparking massive anti-US sentiment across Iraq and leading to the immediate revocation of Blackwater's license to operate in Iraq. Blackwater has been running from its reputation ever since, and has changed its name twice in the last five years, first becoming XE Services and now Academi.