The Obama Administration has followed up on several different media reports from Tuesday evening suggesting that a partial military aid cut to the Egyptian junta was either imminent or very close to settled on, insisting that the reports were simply "false."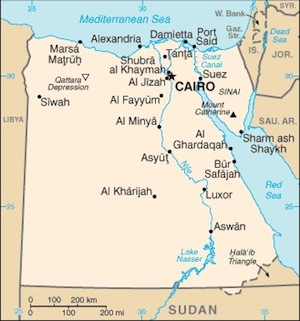 State Department spokeswoman Marie Harf would say only that there was some "review" of aid to the post-coup government, but officials have been saying that for three solid months, since the Egyptian military ousted President Mohammed Mursi.
She continued to push the repeated narrative of the administration that keeping funding for the junta (though flat out illegal under US law) is vital to retaining US influence over the military, and therefore vital to any future "democratic transition" that may or may not happen among the still not outlawed handful of junta-friendly political parties in Egypt.
The denial apparently came a bit late for some people, with Rep. Eliot Engel (D – NY) expressing disappointment with the now disavowed plan, saying bilateral relations with the junta need to be maintained at all cost.
The Israeli government also didn't get the message, accusing the Obama Administration of violating the 1979 Israel-Egypt peace treaty, which obliges the US to continue throwing billions in aid money at Egypt no matter who is in charge or what they're doing. Israel has been heavily lobbying to keep aid for the junta flowing, and has openly argued that human rights violations (which is to say, wholesale massacres of pro-democracy protesters) are a secondary concern to "stability."