Israeli Prime Minister Benjamin Netanyahu's interview on BBC Persian was by all accounts a failure in pushing the narrative of retaining international hostility toward the Iranian government, but also fueled some heavy Twitter mocking from Iranian users over the prime minister's bad intelligence.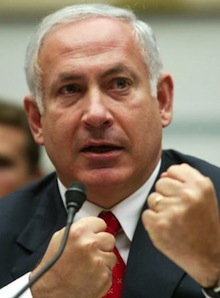 During his interview, Netanyahu condemned Iran's Supreme Leader as a "cult leader," and declared that "if the Iranian people had freedom, they would wear jeans and listen to Western music."
Blue jeans are actually enormously popular among both men and women in Iran, and Western music is also very much a thing over there. Young Iranians on Twitter suggested that Netanyahu's allegations were not only absurd, but a sign of shoddy intelligence-gathering, perhaps meaning his other claims about Iran are no more reliable.
The whole blue jeans thing may have been based around a single rather absurd 2011 appearance by an Iranian pundit on television in which he claimed blue jeans were a sin on the belief they were named after djinn. That story got considerable play as "proof" of Iran's backwards nature, but didn't reflect broader Iranian culture, let alone some sort of tyrannical dystopia where blue jeans are illegal.