Columbia University professor Dr. Prabhjot Singh is out of the hospital and on the mend today after a weekend attack in which he was ambushed by a mob of approximately 20 young men in East Harlem. In addition to teaching courses at Columbia, Singh is also a practicing physician in Harlem.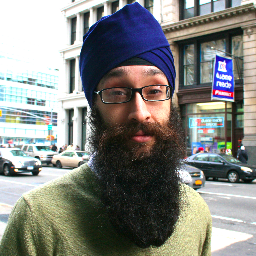 The attackers condemned Dr. Singh as a "terrorist" and called him Osama during the attack, and police say they are operating under the assumption that the attackers had mistaken the professor, a Sikh, for a Muslim. Naturally, assaulting a Muslim is just as illegal as assaulting a Sikh.
Dr. Singh had co-written an op-ed in the New York Times only last year expressing concern about the number of violent attacks against America's Sikh minority, saying at the time that the official assumption all such attacks were based on "mistaken identity" was keeping the government from even attempting to measure anti-Sikh violence in the US.
Bizarrely, though the NYPD released surveillance footage of the attack and issued a statement about what they assume was the motivation, there was no indication that anyone has been arrested over the attack.