Syrian rebels have reported taking the key northwestern village of Khanasir today, killing at least 53 people in the offensive and securing a vital part of the government's supply route into Aleppo.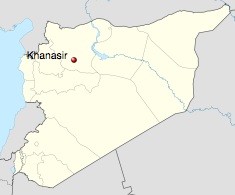 Rebels reported all 53 killed in the taking of the town were soldiers, but many of them appear to have been volunteers with the National Defense Forces, which resist rebel takeovers of pro-government towns.
Rebel spokesmen also reported the execution of an influential Alawite cleric by al-Qaeda-linked fighters from Jabhat al-Nusra, underscoring the sectarian tone of the civil war.
The rebels also attacked the town of Tal Kalakh, near the Lebanese border with the Homs Province. Indications are that the rebels have so far failed to take over the area.