The de facto autonomous northeast of Somalia, Puntland has long been a region of relative stability, mostly avoiding the worst of the Ethiopian and African Union invasions and the fighting surrounding the self-proclaimed central government's attempt to claim control over the nation.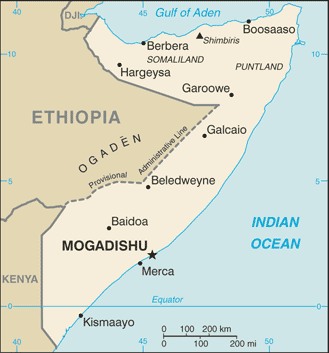 Puntland officials have announced today that they are severing all ties to the central government, however, amid growing centralization efforts within the would-be national government, whose own territory extends only to the city limits of Mogadishu.
The statement cited Mogadishu's disregard for the Provisional Federal Constitution and its unwillingness to share foreign aid that was supposed to be for the whole country under terms of the federalist system that is supposedly in place.
Other regional governments in Somalia have sought to carve out independence, but Puntland has simply sought a measure of autonomy within the context of a federalist system. Their officials say that they will resume ties once the Mogadishu government indicates that it is willing to respect that system.