The Turkish government's peace talks with the Kurdistan Workers Party (PKK), against whom they have fought an off-and-on 29 year war, have been stagnating lately, with both sides trading accusations of negotiating in bad faith.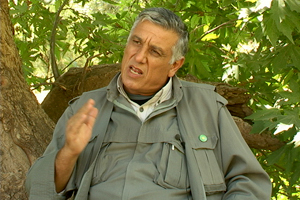 The PKK reiterated its support for the talks, and the ceasefire which is facilitating them, but they have also replaced one of the top political figures in their movement with an outspoken hawk, leading to concerns that the group's patience is wearing thing.
Murat Karayilan had long served as the acting leader of the PKK in the stead of its jailed founded Abdullah Ocalan, but has found himself replaced in the position by Cemil Bayik, another founder seen as a driving force in their military operations.
Bayik has recently accused Islamist groups with close ties to the Turkish government of attempting to sabotage the talks, saying they had been trying to publicly name Turkish negotiators in the talks in an attempt to scare them away from the controversial negotiations.
Both sides have ample reason to mistrust the other after such a long war, and Bayik's promotion, even though he had huge power in the group to begin with, is likely to fuel more opposition to the talks.