The Ecuadorean government has confirmed that it discovered a hidden microphone in the office of Ambassador Ana Alban at their London embassy last month, a fact which they previously avoided disclosing in comments with British officials.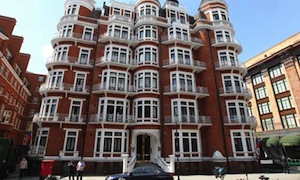 Foreign Minister Ricardo Patino confirmed that the microphone was discovered weeks ago, but now that they were coming forward they are asking the British government to help them with the investigation.
Patino accused a company called "The Surveillance Group, Limited" of being involved in the planting of the microphone. The British-based company describes itself as "innovators int he surveillance field" and claims close ties with British law enforcement.
Patino was quick to say it is unclear if the bugging of the Ecuador embassy had anything to do with Julian Assange, who has been living in the embassy for months. The microphone was in the ambassador's office, and not in the part of the embassy Assange is staying in. The British government has so far declined all comment on the matter.