Hundreds of thousands rallied in Tahrir Square and elsewhere across Egypt today, with over a million demonstrators nationwide by some estimates. The protests in the afternoon were mostly peaceful, though some clashes in the far south saw five people killed and eight people have been confirmed killed overall.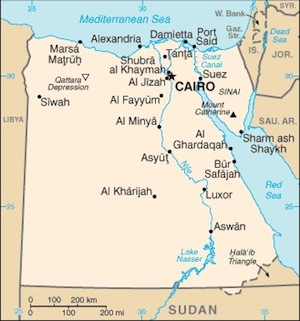 The prevailing calm was gone by nightfall, however, and Sunday evening saw more and more violent clashes, as protesters marched on the ruling Muslim Brotherhood party's Cairo headquarters, throwing rocks and fighting with security forces.
The protests marked the largest turnout since the early 2011 rallies against ousted dictator Hosni Mubarak. Most of the protesters were demanding President Morsi's ouster, though some pro-Morsi rallies were also reported.
Though large numbers of opposition factions are united, at least temporarily, in calling for Morsi's ouster, there are also major internal divisions that would emerge quickly if Morsi was forced to resign and new elections were held. Morsi's party was able to win every election so far decisively, and despite claims of huge numbers of people against him, his aides say they still like their chances if and when they can finally start holding parliamentary elections.