Violence broke out in the Western Chinese province of Xinjiang this morning, when a group of attackers went after a police station in the Turpan Prefecture. Armed with knives, they killed nine police and 17 civilians. 10 attackers were also shot dead.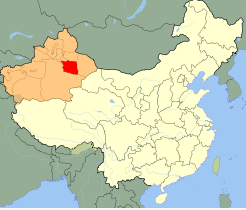 Details of the incident remain unclear, though ethnic unrest is common in the western province, where the Uighur majority feels put upon by an influx of Han Chinese from the nation's east.
Official Chinese media has dubbed the situation "rioting" but has provided no details beyond that. There was a similar incident in the city of Kashgar, to the west of this one, in April. It is unclear if the two were related.
US officials issued a statement voicing "concerns" about the treatment of Uighurs in China, and calling for the government to conduct a "transparent" investigation into the latest clashes.