Erdem Gunduz, a professional dancer from the Turkish city of Izmir, arrived just outside of Taksim Square, the site of the largest anti-government protests in the nation, last night. He stopped, and stood quietly, his hands in his pockets.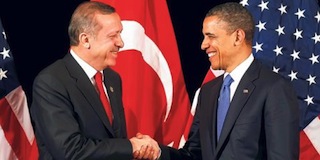 Gunduz stood there for hours, attracting a crowd, and gaining the nickname Duran Adam, literally "the standing man." By morning hundreds of others had joined him in standing just outside of the square, now under police lock-down, and looking on disapprovingly. Standing man was a hit.
Though Turkish officials insisted they wouldn't move against any protests that didn't threaten "public order," police were quick to sweep in on the scene, arresting dozens of copy-cats for just standing there.
Most of the protesters were released by evening, and Gunduz is there again tonight, along with a large number of others, standing and facing a portrait of Turkey's founding father, Mustafa Kemal Ataturk. Ataturk's secular values, contrasted with the violence of the religious conservatives of the ruling party, says it all, and everyone just stands there noticing it.