After months of downplaying the hunger strike situation at Guantanamo Bay another grim new milestone has been reached. The Pentagon now reveals that 41 detainees are being force-fed on a daily basis, one quarter of the facility's 166 captives and nearly half of the 103 "confirmed" hunger strikes.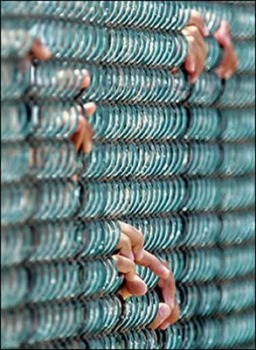 Of course Pentagon officials admitted last month that the 103 strikers number is artificially low, because they are being forbidden from including certain strikers, former CIA detainees in particular, from any official counts.
The military has had to add a large number of additional medical personnel in recent weeks to cope with the huge number of force-feedings, which are being officially called "enteral feeding" of the "humanely restrained" captives, to avoid admitting that they are shackling people to hospital beds and shoving tubes down their throats, something frowned upon by the medical community.
Lawyers familiar with the situation say that there is no sign of the strike ending any time soon, noting that there had been some hope when President Obama promised to restart detainee transfers, but with that appearing to be yet another empty promise no one is holding out much hope.