A suicide bomber attacked a government office in the Paktia Province today just as a US and Afghan military convoy was passing through the area. The attack killed two US soldiers, an Afghan policeman, and at least 10 schoolchildren. 20 others were wounded.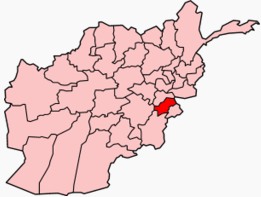 Officials say they believe the attack was targeting the US delegation that was at the government office, and that the attacker was on a motorcycle loaded with explosives. The children were injured because their school had let out for lunch shortly before he arrived.
As NATO officials declined to provide additional details, it is unclear if the two US soldiers killed were involved int he delegation at the office, or if they were simply part of the military convoy.
At attack has added to concerns that this year's Taliban "spring offensive" is much larger than anticipated, and that NATO claims of "progress" are being disproven by the sheer number of attacks being launched.