Pakistan's Foreign Ministry was quick to issue a statement today condemning the latest US drone strike against the country's tribal areas. The attack killed seven people, and according to some reports a high-ranking member of the Pakistani Taliban may have been among them.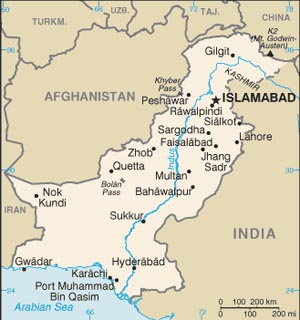 The Pakistani statement reiterated the government's belief that such strikes are a violation of national sovereignty and are creating many more militants than they are stopping. It was the first US strike since Pakistan's election earlier this month, and the first since President Obama's promise of additional transparency and accountability.
In the first indication of how much (or indeed how little) that promise actually means, the White House has declined all comments related to today's strike, refusing to either confirm or deny that the attack even took place. This is, of course, the strategy the Obama Administration has been using from the start, with strikes killing thousands of Pakistanis, most of them unidentified "suspects."
The strikes have fuelled considerable tensions with Pakistan, and the incoming government has promised to be more proactive in preventing future US strikes. Though the outgoing PPP criticized the drones publicly, there was a perception in both Pakistan and the US that they tacitly supported the program, and that perception was a big part of the PPP's monumental collapse in this year's elections.