Gunmen of an as-yet-unidentified faction have attacked the Iraqi city of Rawah today, burning an army post to the ground and laying siege to a police station, killing at least 10 police. 15 soldiers are also missing, with no clue as to their fate.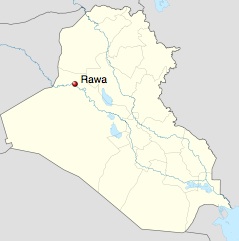 It is just the latest in an ever-growing number of violent incidents across Iraq, with the Anbar Province serving as one of the focal points for clashes that many believe could be the prelude to another sectarian civil war.
Violence over the past week has killed nearly 200 people, and as security forces up their presence in the capital city, there is a palpable sense of futility, that the same measures which did no good curbing violence the last time things were this bad, during the US occupation, are still being relied upon.
April saw a death toll that was the highest Iraq had seen since the summer of 2008, when the last civil war was finally starting to burn itself out. That time, the fighting stopped largely because religiously-mixed neighborhoods eventually saw one side force the other out. With the fighting now going from neighborhood to neighborhood, and city to city, where it stops is anyone's guess.