The London Metropolitan Police are threatening to jail a high profile Pakistani politician today after a speech he made earlier this week regarding internal Pakistani policy sparked "complaints" from British citizens.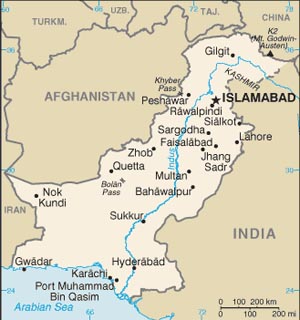 The speech was made by Atlaf Hussain, the leader of Pakistan's influential Muttahida Qaumi Movement (MQM). After winning a solid mandate in Karachi, Hussain responded to allegations of vote-rigging by saying that if the "establishment" wasn't happy with the MQM's victory they were free to separate Karachi from the rest of the nation.
Hussain issued a later clarification saying he didn't necessarily advocate secession outright, but adding that "the nations which are pushed against the wall usually choose to build a separate home."
British High Commission Adam Thomson claimed that Hussain's speech about even the possibility of the secession of Karachi could violate Britain's own law against "hate speech," even though the speech was about Pakistani politics, made inside Pakistan, by a Pakistani politician.
Atlaf Hussain has dual Pakistan-British citizenship and has lived in London for years following several attempts on his life. Despite this, he remains a hugely influential politician in Karachi, and has effectively run the city from an office in North London. Hussain is currently in Pakistan, however, and might not return to London if it meant his arrest. British officials conceded the difficulty of attempting to have Pakistan extradite him.