Turkish officials reacted to yesterday's border car bombings in Reyhanli by blaming the Syrian government, fueling hostile rhetoric and even violent reactions against ethnic Syrian refugees in Turkey.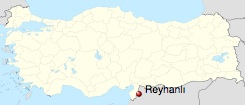 Foreign Minister Ahmet Davutoglu, visiting Berlin today, demanded the international community "act together against this regime" in reaction to bombing, which he blamed on "Marxist terrorists" in league with Syria's President Bashar Assad.
The allegations of blame have fueled anger among locals in the area, with reports of attacks against ethnic Syrians living in the area, traditionally a bustling trade district before the Syrian Civil War.
A hotel in the town frequented by Syrian rebels was empty, as they fled to safer ground, and random Syrian civilians or people with cars sporting Syrian license plates were subject to attack by roaming gangs of teens.
Last 5 posts by Jason Ditz