Yesh Atid, the party led by Israeli Finance Minister Yair Lapid, has stepped up today and blocked an effort by Trade Minister Naftali Bennett to impose a referendum requirement on any peace treaty before agreeing to it.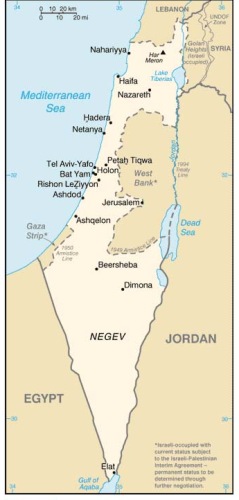 Bennett, the leader of the Jewish Home party, is an outspoken opponent of peace deals on general principle, saying that even with the occupied West Bank and Gaza Strip God didn't give Israel enough land to allow for an independent Palestine.
Bennett pushed the referendum proposal as an effort to weaken Justice Minister Tzipi Livni's position as head negotiator, and its inclusion in basic law would effectively make it impossible to negotiate a final agreement.
Yesh Atid MP Ronen Hoffman downplayed the significance of the move, saying that there is no momentum toward a peace deal at any rate, and that the referendum requirement should only be discussed when a deal is close and not entirely hypothetical in nature.
Likud officials slammed Yesh Atid for blocking the proposal, accusing them of "dividing" the nation. The reality is that Likud needs them to keep a coalition in place, and also needs Jewish Home. In the long run, the peace process divides the coalition pretty decisively, and such fractions are inevitable on those rare occasions when it actually comes up as a matter of policy.
Last 5 posts by Jason Ditz