The death toll in a Sunday attack on the Somali Supreme Court continues to rise today, with members of parliament now putting the overall death toll at 35. Officials say the toll could yet rise further, as many remain seriously wounded.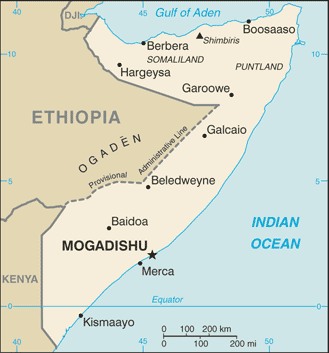 It was an unusually large attack for al-Shabaab, which claimed credit for the incident, and Prime Minister Abdi Farah Shirdon says that several "experienced foreign fighters" were believed to have been involved.
Officials say that the explosive devices used in the attack were "more sophisticated" than the normal al-Shabaab fare, and may be the first big incident of al-Qaeda involvement since the announced "merger" with al-Shabaab.
The 35 dead included nine attackers, and according to MP Dahir Jesow six of those nine killed themselves by detonating suicide vests during the attack, which overwhelmed local hospitals.