US commander for Afghanistan Gen. Joseph Dunford reported earlier this week that he remains "undecided" on the size of the occupation force the US will retain in the nation beyond 2014.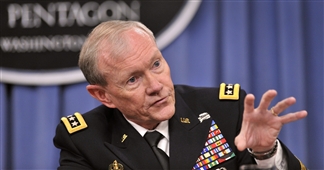 This surprised a lot of people, but not Joint Chiefs of Staff Chairman Gen. Martin Dempsey, who in an interview today said that the US is "not in any particular hurry" for the number of troops that will be part of the "enduring presence."
Dempsey says he wants to see how the Afghan military handles the next "fighting season" after winter ends before he makes any recommendation. Gen. Dunford had suggested his own reputation would come soon.
President Obama signed a pact last year to keep US troops in Afghanistan through 2024. Officials have insisted that removing troops entirely at the end of 2014 is not an option under consideration, and it is simply a question of how big the force will be.