Israeli officials say they have put the military "on alert" with respect to both the Gaza Strip and the West Bank, following an exchange of fire that didn't kill anyone in Gaza and growing unrest in the wake of the death of a Palestinian detainee in the West Bank.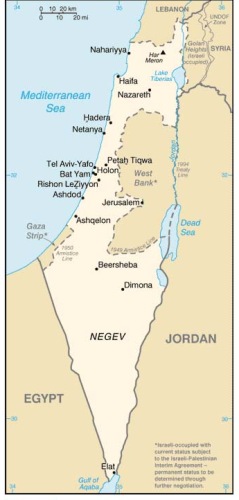 The death of Maysara Abuhamdia has fueled complaints of "negligence" by Israeli prison services, and widespread hunger strikes among 4,600 other Palestinian detainees.
There were also major protests in West Bank cities and a few riots, with a 17-year-old Palestinian killed and another wounded when Israel responded to "rioters" with live fire. Israel's military claims that firebombs were thrown before the incident and troops felt their lives were in danger.
This is just the latest in a long line of West Bank clashes, with anger among Palestinians over the treatment of prisoners leading to on-again, off-again protests and heavy-handed crackdowns by Israel's military.
The Gaza situation seems to be fueled entirely by a pair of Gaza rockets fired "at Israel," but which actually fell short and hit on the Gaza side of the border. Israel responded with air strikes and threats to dramatically escalate.