In his first major policy address since taking office, Defense Secretary Chuck Hagel on Wednesday forecasted cuts and reforms to be imposed on the Pentagon in keeping with sequestration cuts agreed to by Congress.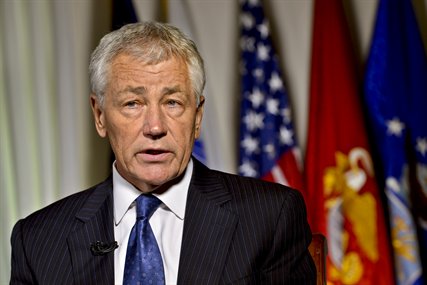 Hagel said he was taking "a hard look" at wasteful weapons programs and superfluous personnel, citing former Defense Secretary Leon Panetta as saying "the Pentagon is a big, damn bureaucracy."
Despite prior efforts to do away with expensive, unnecessary weapons programs, Hagel said, many projects still remain that are "vastly more expensive and technologically risky than what was promised or budgeted for."
"Left unchecked, spiraling costs to sustain existing structures and institutions, provide benefits to personnel and develop replacements for aging weapons platforms will eventually crowd out spending on procurement, operations and readiness — the budget categories that enable the military to be and stay prepared," he said.
"The Pentagon is keeping details of its proposed cuts under wraps until the Obama administration unveils its budget next week," reports The Wall Street Journal. "But defense analysts said Mr. Hagel's speech indicates military forces will be cut more deeply and that some high-profile weapons systems, like the Army's ground-combat vehicle or light tactical vehicle, are likely to be cut back or delayed significantly."
While Hagel made promises to cut areas of waste, he insisted America's military presence around the world would not be reduced.
"America does not have the luxury of retrenchment – we have too many global interests at stake, including our security, prosperity and future. If we refuse to lead … someone will fill the vacuum," he said.