NATO reiterated on Tuesday it had no intention of conducting any military intervention in Syria's conflict after a Syrian opposition leader again urged the United States to intervene on behalf of the rebels by protecting and reinforcing rebel-held areas.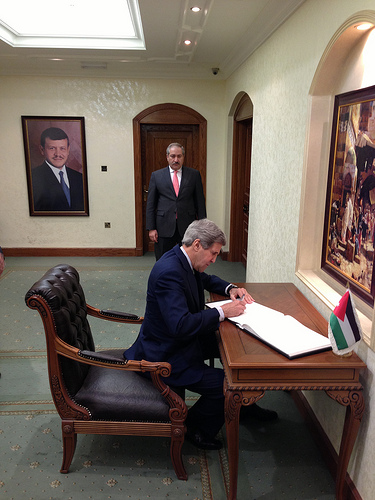 "NATO has no intention to intervene militarily in Syria," a NATO official said in response to a request from Syrian opposition leader Moaz Alkhatib for American forces to defend rebel fighters with Patriot missiles.
"I have asked Mr Kerry to extend the umbrella of the Patriot missiles to cover the Syrian north and he promised to study the subject," Alkhatib said.
While the US has all but taken direct military action off the table, it has been increasing its involvement in the Syrian conflict by proxy, helping send arms from throughout the region to rebel fighters and even training some in neighboring Jordan.
The Obama administration claims these efforts to arm and train the Syrian rebels are intended to bolster the so-called moderate elements of the opposition, but intelligence officials have previously criticized America's capacity to do so.
US interventionism in Syria is contributing to a proxy war being played out by virtually all the region's players. Syria maintains Russia's backing, as well as Iran's, while Saudi Arabia, UAE, Jordan, Qatar, Turkey and others aggressively back the Syrian rebels, many of whom would prove dangerous if brought to power.
"The moderate political and military command structure the U.S. has been trying to foster within the Syrian opposition appears to be fracturing, a victim of bitter Arab regional rivalries," writes The Washington Post's David Ingatius, with Saudi Arabia and the Gulf states promoting Sunni jihadists and Qatar and Turkey pushing for an Islamist-led government by the Muslim Brotherhood in Syria.