One person was killed today in Egypt's Port Said governate, and 155 others were wounded as massive protests continued and demonstrators clashed with government security forces attempting to impose a "state of emergency" and a broad curfew on the city.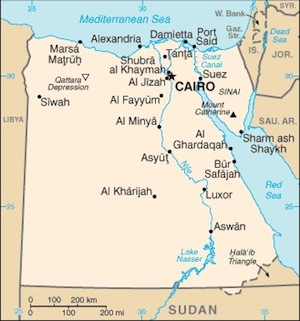 This may just be the tip of the iceberg in over a month of violence in the city, as the national police have withdrawn from the city and the government has announced a takeover by the military of all security operations.
The protests in Port Said stem from a January verdict in which courts announced death sentences against 21 residents related to a soccer riot in 2012. The soccer riot had political components, with officials accusing Mubarak loyalists of firing up the rioters, and with the victims mostly from Cairo's al-Ahly, there has been a sense that the verdict was mostly about placating Cairo residents than about the actual evidence of the incident.
The curfews were initially announced in the wake of the verdict, after 44 people were slain in the post-verdict riot, but demonstrators have defied orders to abandon the streets and have kept large-scale protests a virtually daily occurrence in the city. The military had previously been charged simply with keeping the Suez Canal open, but is now being told to restore order to the entire city, setting the stage for an ugly clash.