The first visible result of sequestration was seen from the US Navy today, with the announcement that they are suspending the deployments of a pair of frigates to the Caribbean as part of a drug war operation.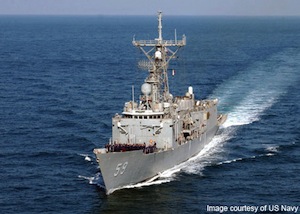 The deployments were to be a part of "Operation Martillo," which involves Navy, Air Force, Coast Guard, and Marines. The Coast Guard is complaining that the loss of the two ships is a major blow to the operation.
The ships are the USS Kauffman and the USS Rentz, both Perry-class guided missile frigates. The Kauffman has spent much of its nearly 30 years in service engaged in "anti-narcotics" operations, though it also spent some time in the early 1990's enforcing sanctions against Iran as well.
Operation Martillo is a part of Southern Command, and has included ground deployments of Marines to Guatemala. Officials claimed 25,000 pounds of marijuana was captured by the operation in 2012.